Operation Smile Story
We would like to introduce our guest blogger, Kaitlin from Alberta, Canada, who has kindly agreed to share with us her son's story. Arlo is 2.5 years old and he was born with a cleft lip.
| | |
| --- | --- |
| "Hi, I'm Kaitlin, and I am mom to three children, with my middle child being "cleft affected". We live in a small town in Alberta, Canada. I'm married to my high school sweetheart, Richard, and together we have two sons and a daughter. Teagan is almost 4, Arlo is 2.5 and Molly is 7 months old. When I am not chasing my kids around the house (so like at nap time or after they are in bed for the night) I run a small etsy store, that specializes in headbands and other baby items. I also try and blog over at www.kaitslife.com. | |
| | |
| --- | --- |
| | We found out about Arlos' cleft at my 20 week ultrasound. After we found out about the cleft, our prenatal care was transferred from our local doctor to the specialist team in the city, as our small town wasn't equipped to deal with the complications that might arise with having a cleft baby. Arlo was born with an "isolated cleft lip and palate" (it's on the right side, which is "rare" in the cleft world). Meaning that aside from his cleft, he has no other health issues. |
Our team used a nasoalveolar molding device (or NAM for short) to help correct his alveolar ridge, it brings the edges of the cleft together, basically eliminating an extra surgery. We used the NAM for 3 months, along with taping his top lips together, before he had his first surgery.

When you have a child with special needs, you try and make the best out of every situation. I remember one night being sad that sweet little Arlo had to have his lip taped again. So I drew a moustache on the tape, and that silly little moustache changed the mood I was in. And now, it is one of Arlo's favourite pictures to look at. He thinks it's hilarious.
At four months old Arlo had his first surgery. It was lip repair, alveolar ridge line repair, nose repair and ear tubes. The hardest part wasn't the actual surgery, it was handing my sweet little baby over to the nurse. I am thankful for our team, but handing my baby over has never ever gotten easier. I remember the moment I got to see him post-op. He was lying in the bed, still drowsy, and we opened the door up and I saw him. The first thing I did was tell him that I loved him, and that I was so proud of him. It was the first thing he heard from me. Before surgery, he couldn't hear. His eyes lit up, that's when I cried.
After surgery, our appointments eventually dropped down to one every six months. That was such a relief, after having to be there weekly for the first four months! After Arlo turned one, he was reassessed by his whole team; ENT, plastic surgeon, speech pathologist, paediatrician, and nurse. At this point they decided that when he had his palate repair, they would also put in a new set of ear tubes.

This time surgery was crazy. Tiny little four month olds, are WAY easier to take of post op, then mobile one year olds. Not only that, but he got a cold while recovering, which meant isolation. It was not the best time, but our nurses were incredible, and I always felt like they had our best interests at heart.
After his palate surgery and post op appointments, we got "approved" for only having appointments ONCE A YEAR. This is huge. When we were pregnant with Arlo, we were told that more than likely he would have weekly appointments for the rest of his life. Going from that, to once a year was better than a dream come true. Our speech therapist even told us that he was at "the normal two year old level", which I have to admit did make me tear up.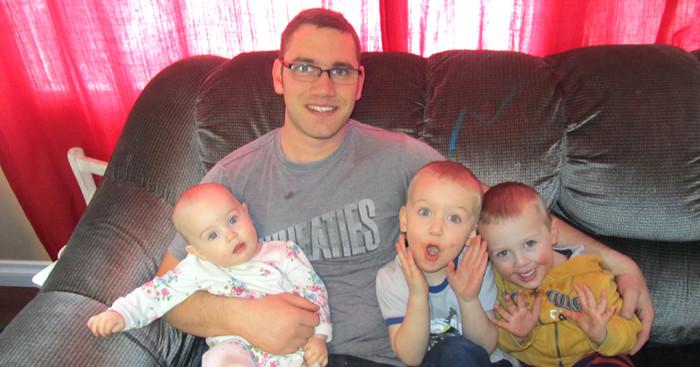 Everything was good, for about 6 months. Around that point we noticed that he wasn't hearing as well as he use to. We had our ENT and audiologist check his ears out, and sure enough, they were plugged. Thankfully they were able to determine that the eardrum wasn't damaged. But it did mean that he would have to have another surgery. While the surgery was only 10 minutes long (if that, seriously we waited in the "holding" room, and post op room longer than he was in actual surgery) it was definitely a needed procedure.
Right now, we are waiting for the post surgery appointment, where he will see his ENT and audiologist just to make sure that the tubes are working as they should. After that he will have his yearly appointment in September.
While he isn't "free and clear" from any more surgeries, at the present time he won't have surgery again till he is 5 (or before he starts kindergarten). That surgery will be to touch up his nose, and lip. When he is between the ages of 9 and 11, he will more than likely have to have a bone graft placed in his cleft. But that is so far in the future, that I haven't really put much too thought into it. After bone graft, if he decides, he can have a procedure done on his nose. That's usually done around 16.

Arlo is the toughest, kindest, loudest (might be because of the whole hearing issue…), energetic child I have ever met. I am so thankful to have him in my life. And while I wouldn't wish a cleft on him, or anyone, I wouldn't change him or what we have gone through for anything.
The last note I would like to add that I think that Charlie Banana® diapers are the most amazing cloth diapers I have ever used. They are hands down my favourite brand that I have ever tried. AND I have a pretty high standard, I used to make my own, as I wasn't pleased with the selection available. My absolute favourite feature is the buckle system, or leg sizing feature. THIS IS GENIUS, and a game changer. No longer does my baby have marks on her legs, from snaps on the outside, which is a big pet peeve of mine actually.
Giveaway!

Please share with us your stories and experiences that could increase people's awareness of Operation Smile and the little heroes out there. We will pick the best two comments and the authors will get Charlie Banana® Mug each!
Be Good!
Gaëlle Wizenberg