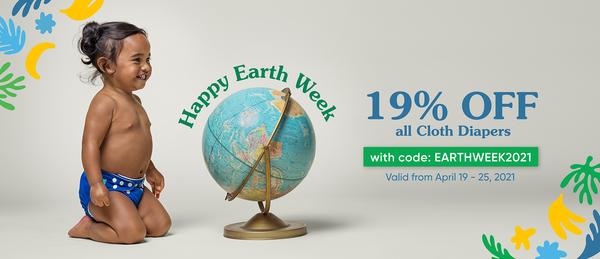 Happy Earth Day, all eco-warriors!

Sustainability starts with small steps. Opting for reusable cloth diapers is one of those steps, and even if you only make this choice once a week, you are already reducing your waste by 52 diapers a year.

On our end, we like taking your sustainability efforts one step further, by making sure that the diaper you put on your child is more than just a diaper — it's a tiny investment into a greener, kinder world.

Below are just a few examples of the impact you are making when you choose Charlie Banana.
Bettering the environment

To create a better planet and future for all, we commit to giving back 1% of every
sale to our environmental nonprofit partners. Not just on Earth Day — every day.

This means that every time you shop with us, you donate 1% of your purchase to causes like WWF Thirty Hills project, which aims to save one of the last great stands of rain forest in the Indonesian island of Sumatra, an incredible place where elephants, orangutans and tigers coexist in the wild.
Spreading smiles

Each year, Operation Smile gives new smiles to thousands of children born with cleft condition around the world, many from impoverished communities.

400 of those smiles in the past 10 years were given through our partnership with this amazing non-profit. That is 400 lives changed forever through a simple surgery, which would otherwise be inaccessible.
Thank you for enabling us to support these causes and to build a better world for baby in so many ways. We wouldn't be able to do it without you.